As web3 has entered the mainstream consciousness, an entirely new category has emerged: web3 social.
Humans are tribal creatures. The desire to connect with each other and belong to communities is in our DNA. Web3 social fills the same human void as web2 social – connection.
So what exactly is web3 social? It's a new open model for social that is user-centric, not platform-centric.
In web3 social, users own their identity, data, and the content they create for apps and protocols. Web3 social is a springboard into the world of DAOs (Distributed Autonomous Organizations), platformless social networks. Finally, it's a new era for social media where users own the networks and protocols and create positive externalities for non-users.
Web3 social products leverage value propositions native to web3 such as user-ownership to empower users while leveraging familiar web2 social models to create a recognizable user experience.
Humans are aggregating identity in their wallets. Wallets hold social club memberships, NFTs that reflect their personality, and cultural moments they've participated in.
This trail of data travels with users and is also publicly available. App developers harness this data to build social graphs and reputation systems that form the connective tissue of web3 social apps.
Web2: users give up ownership of their data to centralized networks
Web3: users travel with their data, and social platforms access on-chain data to connect users
Web2: gaining "Followers'' and "Likes" is a feedback loop that incentivizes content producers to keep contributing to networks.
Web3: social networks build reputation systems that interpret open data based on social media likes/comments, investing patterns, and/or participation in the governance of protocols
While the connective tissue for web3 apps is (currently) centralized, many apps are committed to allowing users to own the value they create. Users mint their profiles, reputation, and social graphs on-chain to be then used by other networks or DAOs.
DAOs are platformless social networks. They allow members to coordinate capital and resources to accomplish a mission. Two DAO use cases have emerged that emphasize socialization: Social DAOs and Investment DAOs.
Social DAOs: Users form communities over shared sets of values and interests. Social DAOs give the community the ability to coordinate towards a mission, program roles, and incentivize contributors. One use case could be a Creator-fan club that co-creates content and grows brand value together.
Investment DAOs: Users truly own their assets in web3. DAOs allow groups of friends/strangers to own anything. Through investment and hence shared ownership, users play an active role in the growth of the products & communities they have a stake in. Communities coordinate group action, and communities emerge from group action.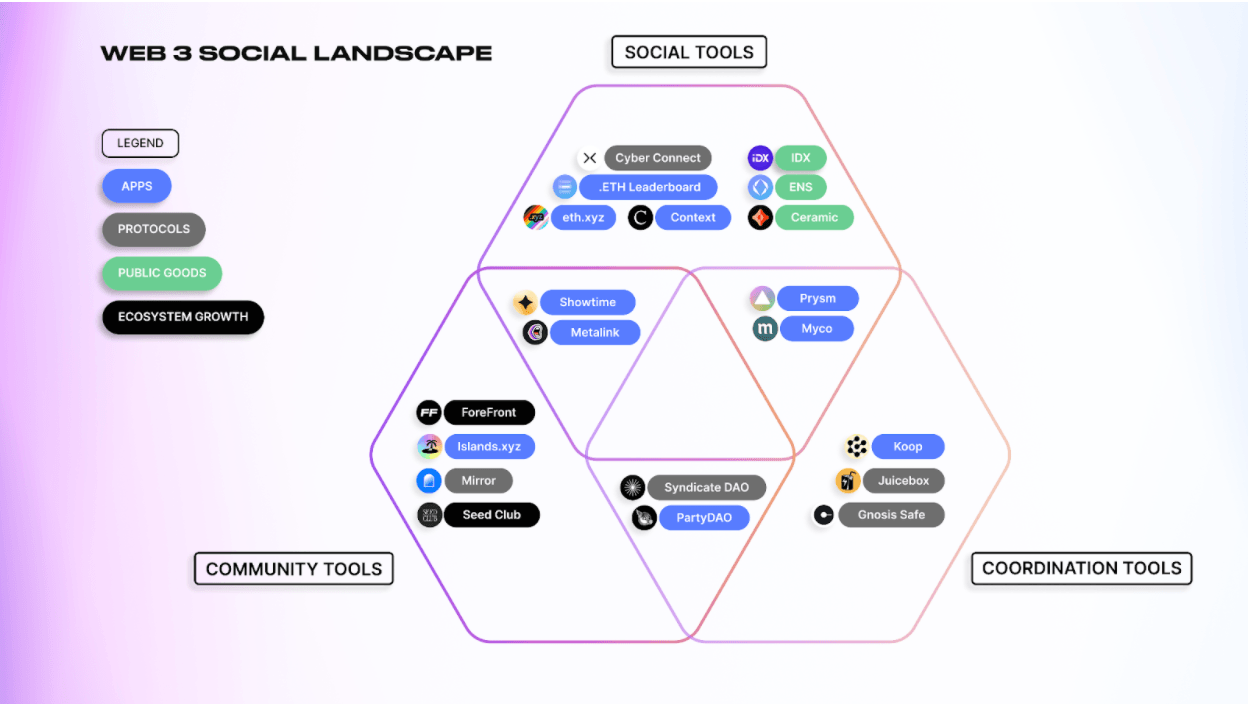 Other projects are catalyzing the growth of the broader web3 social network.