Every company faces some version of the "cold start problem": How do you get started from nothing? How do you acquire customers? How do you create network effects — where your product or service becomes more valuable to its users as more people use it — that create incentives for even more customers to sign up?
In short, how do you "go to market" and convince potential customers to spend their money, time, and attention on your product or service?
The concept of the customer acquisition funnel is core to go-to-market, and is very familiar to most businesses: going from awareness and lead generation at the top of the funnel to converting and retaining customers at the bottom of the funnel. Traditional web2 go-to-market therefore attacks the cold-start problem through this very linear lens of customer acquisition, encompassing areas such as pricing, marketing, partnerships, sales channel mapping, and sales force optimization. Success metrics include time to close a lead, site click-through rate, and revenue per customer, among others.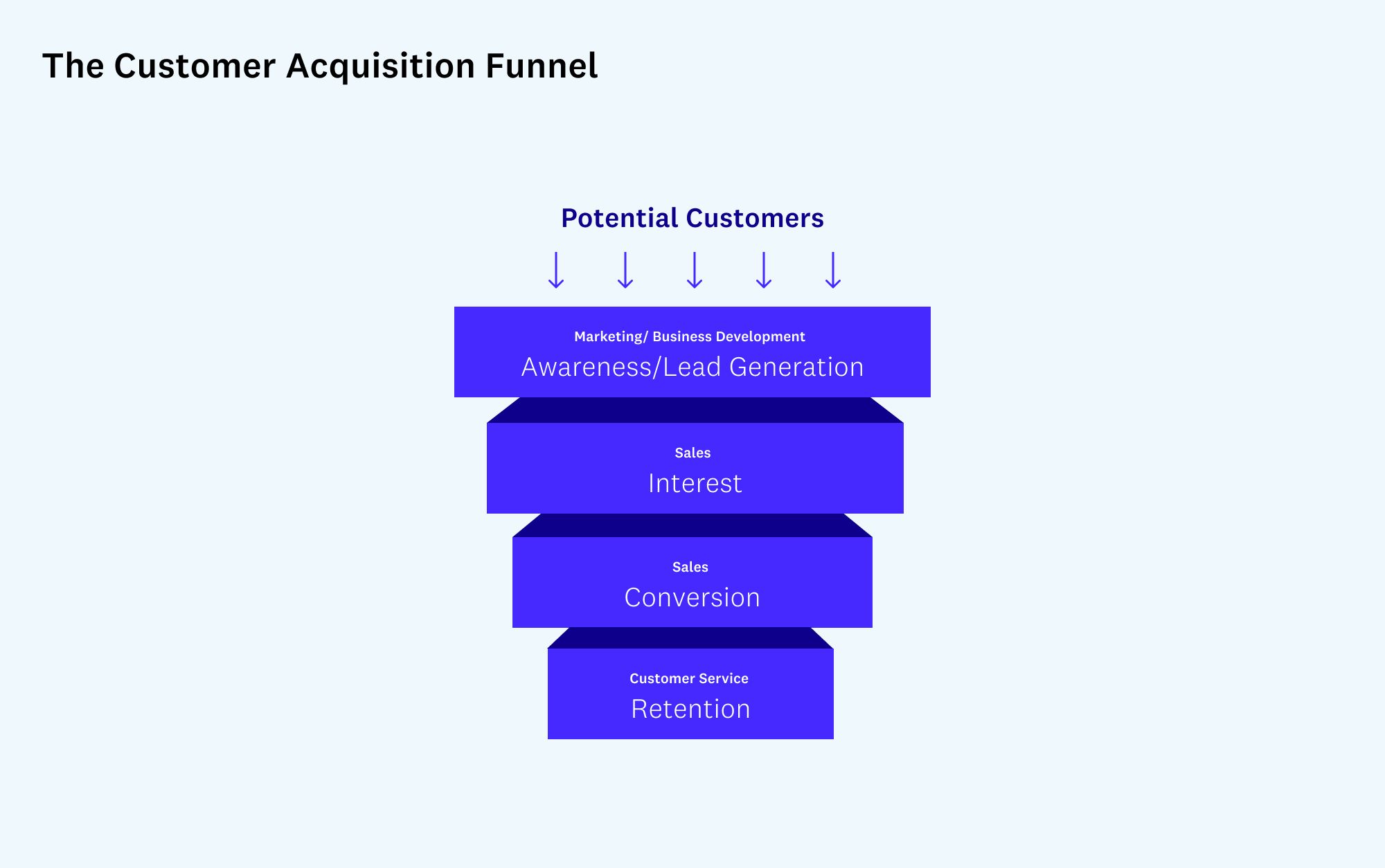 To summarize: In web2, the primary GTM stakeholder is the customer, typically acquired via sales and marketing efforts. In web3, an organization's GTM stakeholders include not just their customers/users, but also their developers, investors, and partners. Many web3 companies therefore find community roles to be more critical than sales and marketing roles.
For web3 organizations, GTM strategies depend on where an organization fits in the below matrix, according to its organizational structure (centralized vs. decentralized) and economic incentives (no token vs. token):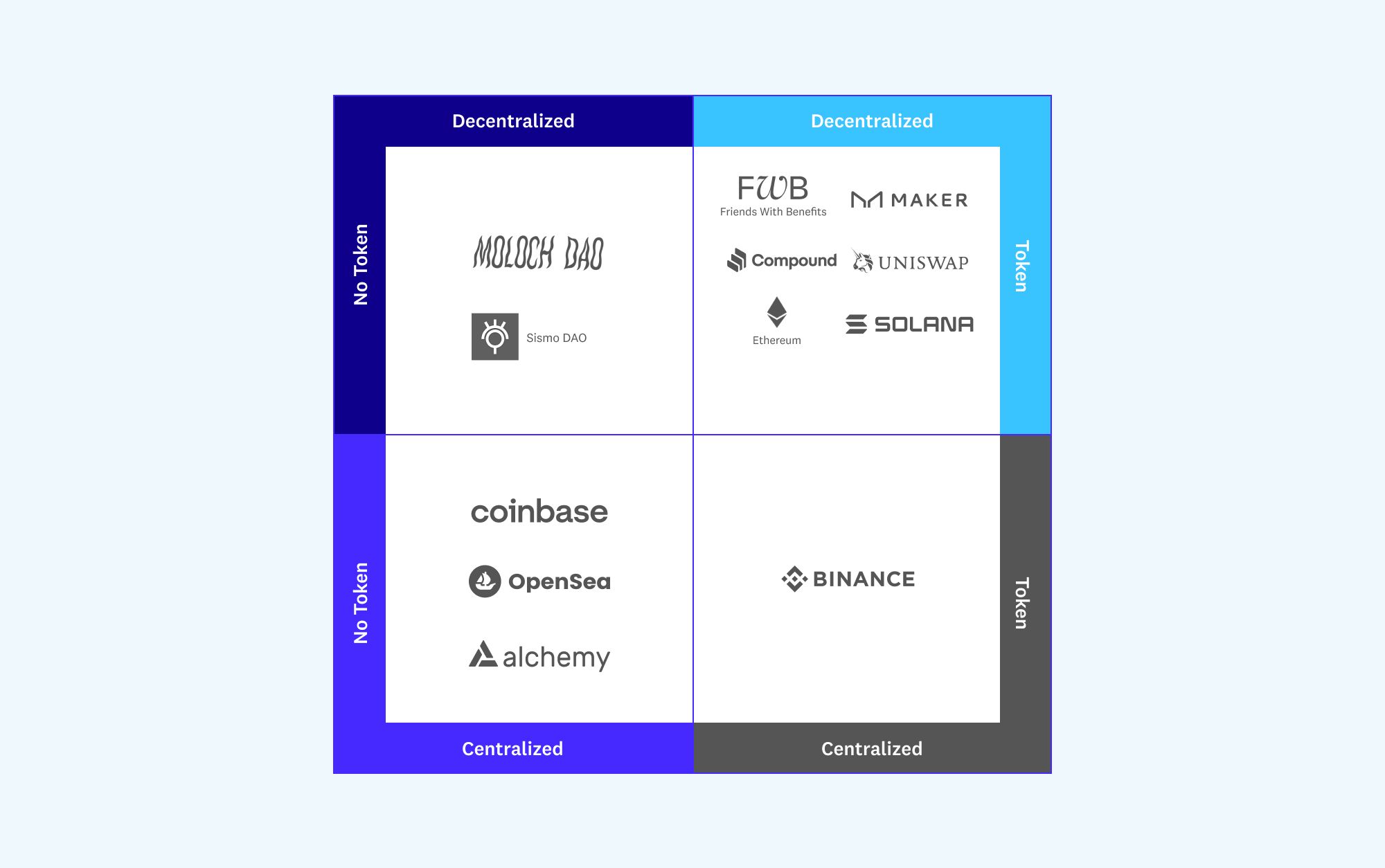 Go-to-market differs in each of the quadrants, and can span everything from traditional web2-style strategies to emerging and experimental strategies. Here, I'll focus on the upper right quadrant (decentralized team with token) and contrast it with the lower left quadrant (centralized team with no token) to illustrate the difference between web3 and web2 GTM approaches.
First, let's look at the upper right quadrant. This includes organizations, networks, and protocols with unique web3 operating models, which in turn require novel go-to-market strategies.
Having a product and a solid technical foundation is still important, but it doesn't have to come first.

Now let's go deeper into the go-to-market motions in the two major categories of web3 organizations in the upper right quadrant: (1) decentralized applications; and (2) Layer 1 blockchains, Layer 2 scaling solutions, and other protocols.
"Decentralized applications" covers use cases such as decentralized finance (DeFi), non-fungible tokens (NFTs), social networks, and gaming.
Many DeFi projects follow a path where the protocol is first developed by a centralized development team. Following the launch of its protocol, the team often seeks to decentralize the protocol in order to increase its security and to distribute management of its operation to a decentralized group of token holders. This decentralization is typically accomplished through the simultaneous issuance of a governance token; the launch of a decentralized governance protocol (typically a decentralized autonomous organization, or DAO); and the granting of control over the protocol to the DAO.
Here are two popular DeFi examples:
MakerDAO started as a DAO in March 2015, established a foundation in June 2018, and retired its foundation in July 2021. MakerDAO has a stablecoin, Dai, whose purpose is to enable its users to transact in a fast, low-cost, borderless, and transparent way with a stable unit of value. This could be through purchasing goods and services or engaging with other DeFi applications. It also has a governance token, MKR. The DAO approves various governance changes as well as certain parameters of the protocol's operation, including the collateralization ratios the protocol uses to mint DAI.
The Uniswap protocol was launched by a centralized company, but is now owned and governed by the Uniswap DAO, which is controlled by UNI token holders. Uniswap Labs, the creator of the protocol, operates one interface to the Uniswap protocol and is one of many developers contributing to the protocol's ecosystem.
However, TVL is not an ideal metric to measure long-term organizational health and success. Although new DeFi protocols can copy open-source code, offer high yields, and attract significant financial inflows and TVL, this is not necessarily sticky — traders often leave as soon as the next project pops up.

For social, culture, and art DAOs, go-to-market means building a community with a specific purpose — sometimes even starting as a text chat between friends — and growing it organically by finding other people who believe in that same purpose. But isn't this "just a group chat" or just like traditional crowdfunding on Kickstarter, for instance?
No, because while organizers of traditional web2 crowdfunding projects may also have a clear purpose, they have to be much more clear about the means of achieving that purpose top-down. The project originators typically outline a detailed breakdown of how funds raised will be used, a clear product roadmap, and a comprehensive timeline. In the web3 model, the purpose is paramount, but the methods are often figured out later — including how funds will be used, the product roadmap, and the timeline.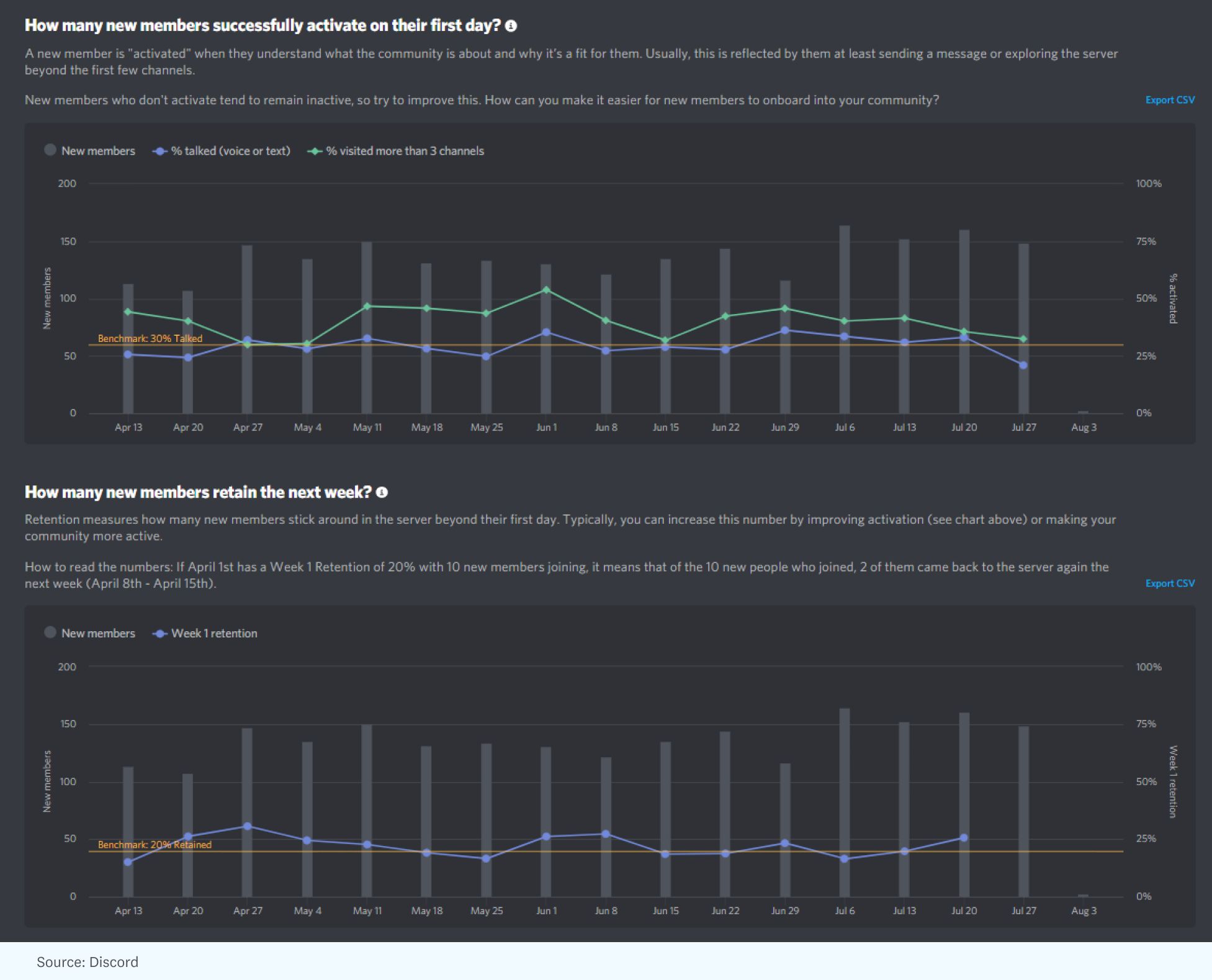 The use of in-game assets native to open, global blockchain platforms rather than the closed, controlled economies found in traditional pay-to-own and free-to-play titles; and
The ability of game players to become true stakeholders and have a say in the governance of the game itself.
While developers of blockchain-based games might have a lower ownership percentage and/or take rate, by incentivizing players as owners the developers are helping grow the overall economy for all.
The key idea here is that Loot grew not due to an existing product that users flocked to, but because of the idea and lore it represented — an open, composable network that welcomed creativity and incentivized users through tokens. The community makes the product — it's not the network making the product in hopes it will attract a community. As such, a key metric here would be the number of derivatives, for instance, which could be considered even more valuable here than traditional metrics would.

In web3, Layer 1 refers to the underlying blockchain. Avalanche, Celo, Ethereum, and Solana are all examples of Layer 1 blockchains. These blockchains are all open source, so anyone can build on top of them, replicate or alter them, and integrate with them. Growth of these blockchains comes from having more applications built on top of them.
Additionally, protocols can be built on top of other L1s or L2s, with the Uniswap protocol, for example, supporting Ethereum (L1), Optimism (L2), and Polygon (L2).
Growth of Layer 1 blockchains, Layer 2 scaling solutions, and these other protocols can come from forks, which are when a network is replicated and then altered. For example, Ethereum, a Layer 1 blockchain, was forked by Celo. Optimism, a Layer 2 scaling solution, was forked by Nahmii and Metis. And Uniswap was forked to create SushiSwap. While this may initially seem negative, the number of forks that a network has can actually be a measure of success — it shows that others want to copy it.

These examples and mindsets all focus on the upper right quadrant, decentralized networks with tokens — broadly speaking, the current most advanced examples of web3. However, depending on the type of organization, there is still a fair amount of blending of web2 GTM strategies and emerging web3 models. Builders should understand the range of approaches as they begin to develop their go-to-market strategy, so let's now take a look at a hybrid model that blends web2 GTM with web3 GTM strategies.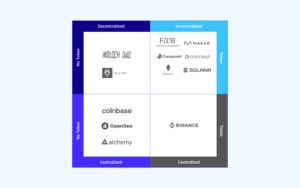 In this quadrant, there is significant overlap in go-to-market strategies between web2 and web3 — especially in the areas of SaaS and marketplaces.
The SaaS business model generally requires a traditional web2 go-to-market motion and incentives. Customer acquisition is through a combination of product-led and channel-led strategies:

For these types of companies, revenue growth comes from growing the number of listings, the average dollar value of each listing, and the number of users of the platform — all of which lead to increased transaction volume, while benefiting users in terms of variety, marketplace liquidity, and more.
Since creators now have an opportunity to continue to monetize their work through the secondary markets — value they previously could not see, let alone capture, in web2 systems — they are incentivized to continue to promote the marketplace. Creators become evangelists as well.

Now that I've shared an overview of key mindsets and example use cases, let's take a look at specific go-to-market tactics often seen in web3 organizations. These are the core ingredients, not a complete playbook, but can still help builders entering and exploring the space understand the tactics and options.
An airdrop is when a project distributes tokens to users to reward certain behavior that the project wants to incentivize, including testing the network or protocol. These can be distributed to all existing addresses on a given blockchain network, or targeted (such as to specific key influencers); often, they are used to solve the cold start problem — to bootstrap early adoption, award or incent early users, and more.
***
So what does this all mean for web3 founders? The biggest mindset shift is moving from planning to something more like gardening.
In web2 companies, founders not only set a top-down vision but are responsible for growing a team and planning and executing against that vision. In web3, founders take on more the role of a gardener, helping cultivate and nurture potentially successful products but also setting up the space for it all to happen. While web3 founders still set the purpose of the organization, and its initial governance structure, the governance structure itself might quickly lead to new roles for them. Instead of optimizing for headcount growth or revenue and profitability, founders might be optimizing for protocol usage and quality of community. In addition, following any decentralization, founders must adapt to environments in which no hierarchical power structures exist, and where they are one of many actors championing the success of a given project. As such, prior to decentralizing, founders should ensure that they are setting up their project for success in such an environment.
So much more is possible here; we have yet to see what more is possible as more people embrace crypto and decentralized technologies and web3 models. Traditional web2 GTM frameworks are a useful reference, and offer some helpful playbooks — but they are just a few of the many frameworks available for web3 organizations. The key difference to remember is that the goals, growth, and success metrics of web2 and web3 are often not the same. Builders should start with a clear purpose, grow a community around that purpose, and match their growth strategies and community incentives — and with them, the go-to-market motions — accordingly.